Facial Skin Care
Our facial skin care products are 100% natural, handcrafted in small batches and made here in New Zealand.   We use a high percentage of ingredients from organic farming in our products and 20% of our profits go towards conserving our native bird the Kiwi on our 3,000 acres of wild, untouched native forest.  Some important feature ingredients in our facial skin care range are certified organic Manuka Honey, certified organic Rosehip oil along with organically grown Fair Trade raw (unrefined) Shea Butter.  
We are proud supporters of our native Kiwi bird   
---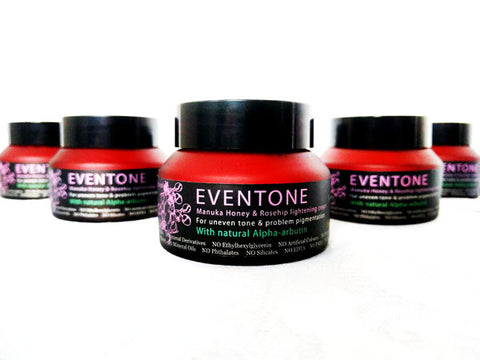 Eventone Manuka Honey & Rosehip Lightening Cream - for Day & Night
Anti-aging cream that effectively treats sun damage and problem pigmentation for DRY, OILY or COMBINATION skin types. Our customers say this product fades problem pigmentation very effectively. Featuring organic, raw Shea Butter, organic Manuka honey, organic Rosehip oil and other organic botanical oils along with therapeutic extracts including anti-aging extracts of White tea, Burdock & Kiwifruit.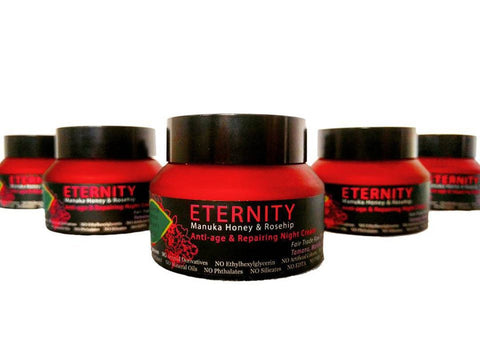 Eternity Manuka Honey & Rosehip Anti-age and Repairing Night cream
An intensive treatment for ALL SKIN TYPES and particularly for MATURE and AGING skin. It repairs, rejuvenates and powerfully tones your skin while you sleep - featuring organic Rosehip, Tamanu, Sea Buckthorn, Marula and Borage oils, extra vitamin E, anti-aging White tea and Mamaku extracts as well as Hibiscus extract, nature's botox plant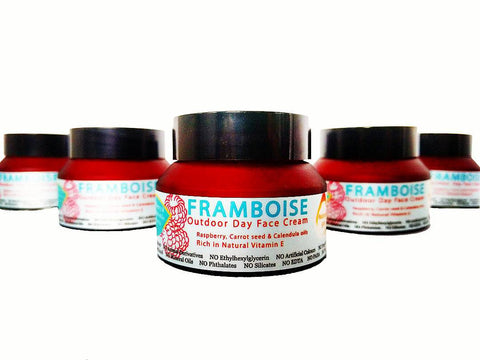 Day Cream Raspberry & Carrot seed - 'Framboise'
An anti-aging Day cream with natural sun damage protection properties, this cream is our lightest cream. It is particularly suited to OILY/ ACNE PRONE skin and MEN'S skin, but is highly moisturising and therapeutic to ALL SKIN TYPES. Rich in Raspberry seed oil, anti-aging and skin fortifying botanicals to boost your skin's resistance to the elements