Item: Eternity Manuka Honey & Rosehip Anti-age and Repairing Night cream

Description: An intensive treatment for ALL SKIN TYPES and particularly for MATURE and AGING skin. It repairs, rejuvenates and powerfully tones your skin while you sleep - featuring organic Rosehip, Tamanu, Sea Buckthorn, Marula and Borage oils, extra vitamin E, anti-aging White tea and Mamaku extracts as well as Hibiscus extract, nature's botox plant

Price: $47.00 $43.00 NZD
Size: 50 mL Glass jar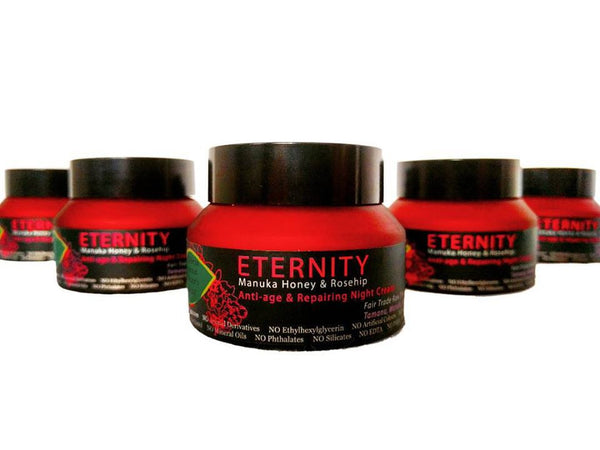 This Repairing Night Cream is rich in healing and rejuvenating ingredients and is specially formulated for damaged or aging skin.  It can be used for All skin types and is especially good for Mature skin to help deter the signs of aging.  Organic Aloe Vera, Shea Butter and Manuka Honey deeply moisturise while organic Rosehip, Tamanu, Sea Buckthorn, Marula and Borage oils heal and rejuvenate.  The Hibiscus flower extract in this cream has a very powerful firming ability and is known as the 'botox plant'.  Also included is anti-aging White tea extract and the world renowned Mamaku extract from New Zealand's Giant Black Tree Fern.  All our base plant oils are cold-pressed and from organic farming sources.  Presented in a high quality glass jar.
Ingredients:  Aqua, Aloe Vera juice, Fair Trade Raw Shea Butter, Cetearyl olivate (and) Sorbitan olivate, New Zealand Manuka Honey, Rosehip oil, Natural Vitamin E, Tamanu oil, Natural Carotenoids, Dehydroacetic acid (and) benzyl alcohol, Hibiscus flower extract, White tea extract, Mamaku extract, Sea Buckthorn oil, Marula oil, Borage oil, Neroli essential oil, Rosemary leaf extract, pure essential oils of Rose Geranium, Carrot seed and Frankincense.  
Allergen info:  Contains bee products, tree nut oils (Tamanu & Marula)
---
Ingredient information:  
76% of the ingredients in this product are from organic farming
Organic Aloe Vera juice - a highly moisturising ingredient due to its polysaccharides and is a valuable ingredient in many of our products.  It stimulates cell replication, promotes collagen & elastin while deeply hydrating, soothing and toning the skin.
Organically grown Shea Butter - we use unrefined Shea Butter, organically grown and hand crafted in Ghana.  Because it is unrefined, you can be confident it still has its abundance of vitamins, minerals, proteins and fatty acids unique to Shea. It is known to have its own natural sunscreen properties, restoring the skin's natural elasticity and is exceptionally healing. In addition, it is a superior moisturiser allowing the skin to stay moisturised longer.  
Organic Manuka Honey - an exclusive honey from the wild bushlands of New Zealand with exceptional moisturising, healing and anti-oxidant properties (protecting the skin from free radicals) while helping to maintain the skin's collagen. Manuka honey is a vital and valuable anti-aging ingredient in our products, making them uniquely different.
Organic Rosehip oil - the king of the oils for healing & rejuvenating with high concentrations of essential fatty acids, retinol, lycopene and beta-carotene.  It has an exceptional ability to promote the repair of aging or damaged skin and to promote collagen.  A highly esteemed anti-aging ingredient in our face creams.
Vitamin E (Natural) - an extra boost from non-GMO soya beans for anti-oxidant power and skin cell integrity, this product has twice the amount of vitamin E as our other products.
Organic Tamanu oil - renowned for its exceptional healing ability as well as anti-inflammatory and anti-oxidant properties.
Carotenoids (Natural) - natural carotenoids extracted from carrots provide powerful anti-oxidant and anti-aging benefits to richly nourish your skin and enhance its ability to protect itself from UVR damage.
Hibiscus flower extract - rich in anti-oxidants, it softens skin and is very helpful in treating dry, dull and wrinkled skin.  Its powerful skin firming ability has resulted in it being known as the 'botox plant' and is used by botox users in-between treatments. Many of our customers feel a strong tightening effect on the face after applying this product.
White tea extract - a very valuable anti-aging ingredient in our products, research has shown its superior ability (even surpassing green tea) to inhibit the enzymes that break down collagen & elastin when applied to the skin.  It also has proven UV light protecting properties.  
Mamaku extract - highly beneficial extract from New Zealand's giant Black Tree Fern which is internationally sought after for its powerful hydration of skin and ability to promote healthy cell renewal including the repair of DNA. 
Organic Sea Buckthorn oil - promotes natural collagen production, has exceptional anti-oxidant power, is anti-aging, nourishing, healing, restorative and is a rich source of vitamins A, E and K.  Helps to protect against and reduce sun-induced skin damage, improves skin tone, texture and cell turnover.  
Organic Marula oil - the 'miracle oil' from South Africa which effectively heals sun damaged skin and helps protect it from further damage, reducing redness, scarring and skin dryness while actively assisting the evening of skin tone.  Rich in vitamins C, E, flavonoids, antioxidants and omegas, promoting a youthful glow.
Organic Borage oil - is the richest source of gamma linolenic acid (GLA) and clinically proven to tighten fine lines as well as repair and rebuild skin.
Rosemary leaf extract - helps prevent age-related skin damage and anti-oxidant properties that help preserve the oils in the cream.
Pure essential oils (Therapeutic grade) - Rose Geranium nourishes and re-hydrates dry and mature skin while Carrot seed and Frankincense stimulate cell renewal. Carrot seed also reduces appearance of wrinkles, skin damage and scars and enhance's the skin's ability to protect itself from UVR damage. 
[Note:  The emulsifer and preservative used in this product are ECOCERT approved ensuring their absolute safety both for your body and the environment - please read further in our FAQ]   
---