Item: 'IMMORTELLE' Facial oil Organic & Rejuvenating - Antioxidant & Retinol rich - 30 mL

Description: An exquisite and intensely therapeutic facial oil consisting of organic Rosehip oil, organic Jojoba oil and organic Apricot Kernel oil along with a superb blend of therapeutic pure essential oils (featuring Helichrysum oil).

Price: $34.00 $31.90 NZD
Size: 30 mL high quality dripulator bottle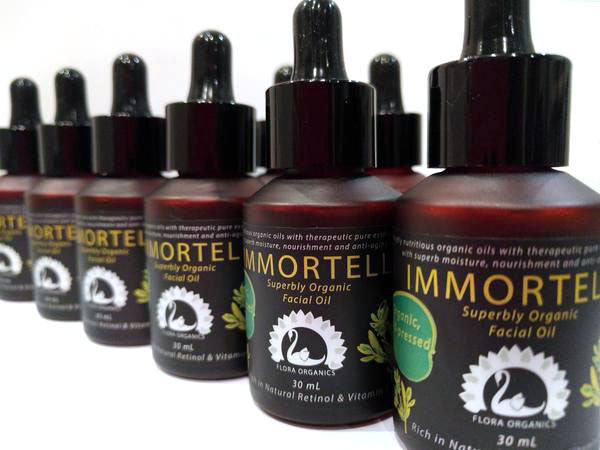 RICH IN ANTIOXIDANTS/ RETINOL with ANTI-AGING HELICHRYSUM & NEROLI 
Our 'Immortelle' facial oil consists of a trio of certified organic Rosehip, Jojoba and Apricot Kernel oils to feed your skin with a powerful punch of nature's anti-oxidants - naturally sourced Vitamins A and E.   This superbly organic facial oil also features therapeutic grade pure essential oils from the Helichrysum flower and Neroli flower, both of which are powerful regenerators of aging skin and both very expensive in this, their pure form.

Ingredients:    
*Rosehip oil, *Jojoba oil, *Apricot Kernel oil, **Natural Vitamin E, Jasmine essential oil, Therapeutic grade pure essential oils of Ylang, Ylang, Neroli, Helichrysum and Sandalwood.

*Certified organic
** Non-GMO

√ Solvent free
√ Cold-pressed
√ Smells divine
√ 100% natural

98% of the ingredients in this product are from organic farming to give your skin the utmost nutrition.
Organic Rosehip oil -  - with high concentrations of Vitamin A [Retinol, Lycopene and Beta-carotene], it has an exceptional ability to repair damaged skin and curb aging by promoting collagen.
Organic Jojoba oil - very rich in natural Vitamin E [what Rosehip oil can't provide], also providing excellent moisturisation and with a unique ability to regulate oil production that is distinctive to Jojoba.
Organic Apricot Kernel oil - the icing on the cake!  Rich in both Vitamins A and E, it plays a very helpful role in firming and toning the skin and is very soothing to sensitive skin.
Vitamin E (Natural) - a powerful antioxidant to boost even further the Vitamin E content in order to support the life of the oils.
Jasmine essential oil - with a gorgeous, sweet fragrance that will lift your spirits with its intoxicating aroma.
Helichrysum Therapeutic grade (also known as 'Immortelle' or 'Everlasting') genuine pure essential oil is a very rare oil and very expensive.  It has extraordinary anti-aging properties and powerfully stimulates cell renewal.  It is also particularly effective in fading scar marks and treating skin irregularities.
Neroli Therapeutic grade genuine pure essential oil in its purest form.  It too has a superior ability to stimulate cell renewal.   
Ylang Ylang Therapeutic grade pure essential oil is a very helpful addition to this blend to enhance the balancing of oil production.
Sandalwood  Therapeutic grade pure essential oil helps to prevent and treat acne, fade acne scars as well as soothe general inflammation.  Good news for the acne prone.
Indulge yourself - your skin will just love you for it!
---