Item: Rosehip oil - Certified organic - source of natural Retinol - 60 mL

Description: In a high quality glass pump - buy more and save

Price: $29.90 $19.90 NZD
Size: 60 mL Glass Pump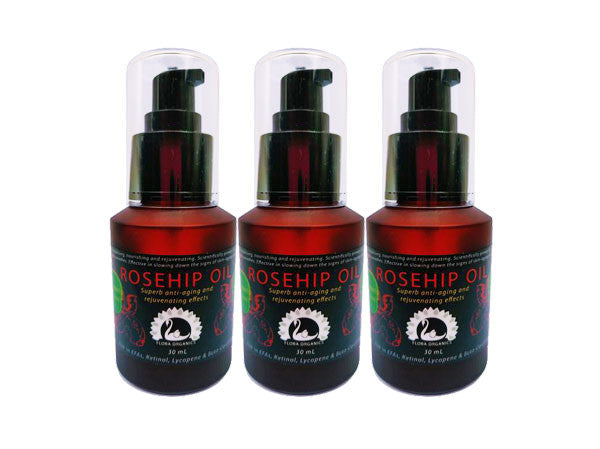 CERTIFIED ORGANIC Roship oil - Rich in natural Retinol for Anti-aging

60 mL  In a high quality glass pump bottle.
BEST BEFORE:  06 / 2025

* From organically grown wild-harvested rosehips
* Solvent free
* 100% Virgin, Cold-pressed
* NZ BioGro Certified organic
* In order to preserve its freshness, we refrigerate it until the moment it is despatched to you.
* No animal testing

* Rich in natural Retinol, Lycopene, Beta-carotene and essential fatty acids omega 3, 6 and 9 to keep your skin looking as youthful as it can be. Fast absorption.

* Scientifically proven to regenerate skin, attenuate scars, even skin tone, reduce fine lines, boost cell turnover and collagen and slow down the signs of skin-aging and damaging effects of the sun. It has superb moisturising, healing, nourishing, anti-aging and rejuvenating effects.

* Suitable for all skin types - Rosehip oil absorbs very readily without leaving any oily residue making it suitable for all skin types.

NOTE: Untreated organic Rosehip oil will always have a warm, earthy aroma and be reddish orange in colour. This shows that it has not gone through any bleaching or treatment process or any kind of transformation. If Rosehip oil does not say 'solvent free' then it may have been processed and thus both harmed and tainted with chemicals.

Storage advice: Store in a cool place and in warmer temperatures, consider refrigeration to extend the life of this valuable oil.