Item: Manuka Healing Treatment Cream - 50 mL

Description: Healing cream rich in organic Manuka oil, Rosehip oil & Calendula oils to soothe inflammation & heal skin

Price: $14.70 NZD

Size: 50 mL recyclable tin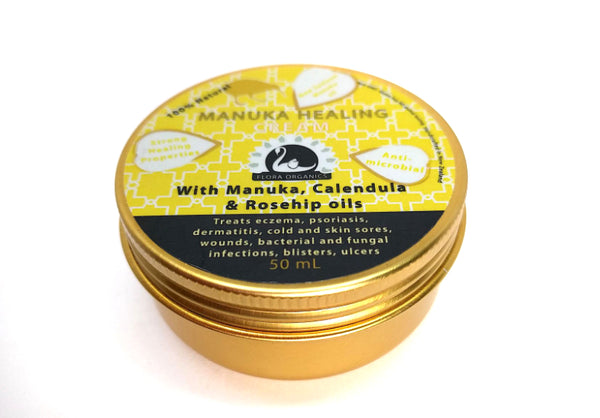 SPECIAL price due to too much stock!  Best Before: 9/21
A very healing cream rich in organic Manuka oil to address many skin conditions, eczema, psoriasis, dermatitis, wounds, sores, burns and infections (both fungal and bacterial) and acne - in a base of Cocoa butter blended with healing Calendula and Rosehip oils. Both Cocoa butter and Sunflower Lecithin effectively soften even hardened or scaly skin in order to maximise absorption of this therapeutic cream.

Ingredients: Aqua, *Cocoa butter, #Cetearyl glucoside (and) Cetearyl alcohol, *Plant Glycerin (Coconut), *Manuka pure essential oil, *Calendula oil, *Rosehip oil, *Manuka Honey, *Beeswax, Natural Vitamin E, Sunflower Lecithin, ##Dehydroaceetic acid (and) benzyl alcohol, Xanthan gum, Pure essential oils of *Lemon Myrtle and Lavender, Rosemary Leaf extract  
*Certified organic      #EcoCert approved emulsifier (Coconut)       ##EcoCert approved preservative  
 The Manuka oil in this cream is: 
√ Certified organic
√ Steam distilled
√ Therapeutic grade  
Manuka oil has powerful healing properties and has been proven to kill 39 different common micro-organisms and even the streptococcal and staphylococcal strains.  Its antibacterial and anti-fungal properties are up to 20 times more potent than Australian Tea Tree oil.
Uses for this cream:
* Itching and irritated skin, eczema and psoriasis 
* Bacterial and fungal infections
* Ringworm, Tinea (athlete's foot), jock itch
* Cuts, abrasions, wounds
* Blisters, bedsores, ulcers
* Cold sores and sores that won't heal
* Pimples and acne - after cleansing, rub in a small amount of cream into problem areas 
* Relieves and heals insect bites and stings