Item: Power Mouthwash & Gargle concentrate - 100% Natural

Description: A Mouthwash concentrate to sanitise your mouth and give you instant freshness - equivalent to 5.4 litres of conventional mouthwash

Price: $22.90 NZD

Size: 33 mL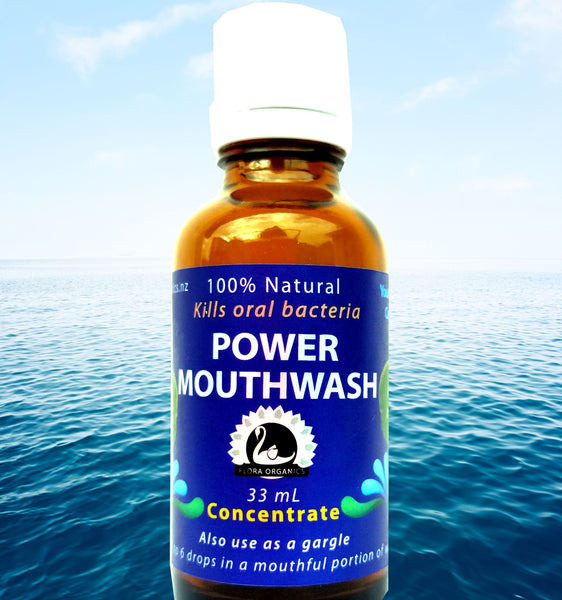 Looking for a natural mouthwash that will last longer than just a few weeks? A regular bottle of mouthwash containing 500 mLs gives you only 25 washes of 20 mLs, plus a plastic bottle to deal with. Try this natural concentrate which will give you many months of use - equivalent to 5.4 litres of conventional (already diluted) mouthwash.


INGREDIENTS: Pure essential oils of Peppermint, Sweet Fennel, White Thyme, Clove & Manuka in a base of Organic Safflower oil

In a glass dripulator bottle - 33 mL

Thyme oil contains thymol, the main active ingredient in many commercial mouthwashes. Clinical research has demonstrated that Thyme, Clove and Manuka oils have the ability to kill oral bacteria. Clove oil is excellent for soothing inflamed gums while Peppermint and Fennel oils freshen breath.

As a mouth rinse or gargle:
Add 4 to 6 drops to a mouthful portion of water and use to sanitise and rinse mouth of oral bacteria.

On your toothbrush: Add just one drop to your brush and brush as usual including your tongue.

On Floss:
With a drop between your index finger and thumb, run a piece of floss through the oils before flossing for antibacterial benefits.

Guidelines for use:
*Avoid use during pregnancy and lactation.
*As with all mouthwashes, children under 6 yrs should not use it due to risk of swallowing.
*Adult supervision is advised for age 6 to 12 years.
*Keep out of reach of children.

*20% of our profits go towards kiwi bird conservation on our 3,000 acre native forest reserve.