Item: Teeth Whitener - Activated Coconut Charcoal & Bamboo Toothbrush

Description: Coconut Charcoal - A natural way to remove stains from your teeth enamel with added Xylitol for improved taste

Price: $17.90 NZD

Size: 40 grams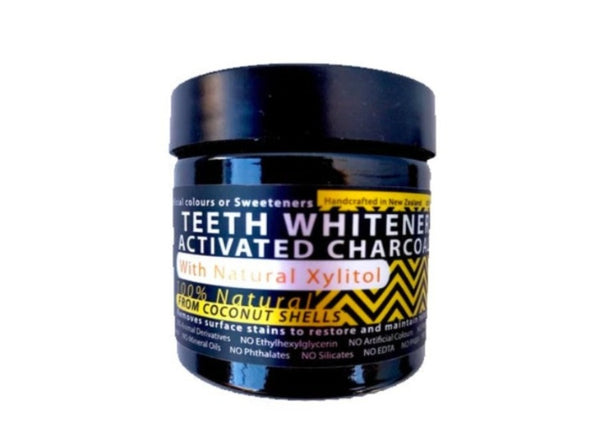 Charcoal Teeth Whitener - Natural Teeth Whitener - Tooth Powder for stain removal

*Includes our quality Bamboo Toothbrush*

INGREDIENTS: Premium Food Grade, Organic, Activated Coconut Shell Charcoal, Xylitol, Calcium Bentonite

+ Tested on our own teeth, so we know it works !!
+ 40 grams in a recyclable glass jar
+ 100% Kiwi made - by us
+ We only use certified organic coconut shell
+ No chemical additives, artificial flavours or colours

Unlike cheap products imported from China which in reality may not be food grade at all, this contains premium food grade (ultra pure), steam-activated Coconut Shell Charcoal. Xylitol accelerates plaque removal and has been shown to support stain removal also.

Trade Me feedback:
"Fabulous & Fantastic Trade Thank you so much :) Who needs Expensive Dentists costs when you can have teeth whitened in days.." 26/10/18

DIRECTIONS: With a damp brush, pat surface of charcoal powder and brush gently for 1 to 2 minutes. Rinse well, follow by brushing with toothpaste and rinsing again to ensure all charcoal is removed. Repeat daily for up to 1 week until stains are removed. Use once every 1 to 2 wks thereafter if desired, to maintain stain-free teeth.

NOTE: It's important to rinse mouth thoroughly and follow with brushing with toothpaste and rinsing. This is to avoid any residue of charcoal building up that may stain teeth due to its pigment content. While treating teeth, brushing twice is required - first with charcoal, then toothpaste, so short term use is recommended.