Item: Eco Dental Floss - Silk - 40 Metres

Description: Eco Dental Floss 100% natural - Eco Dental Floss Biodegradable - Eco Dental Floss compostable

Price: $7.00 NZD

Size: 40 metres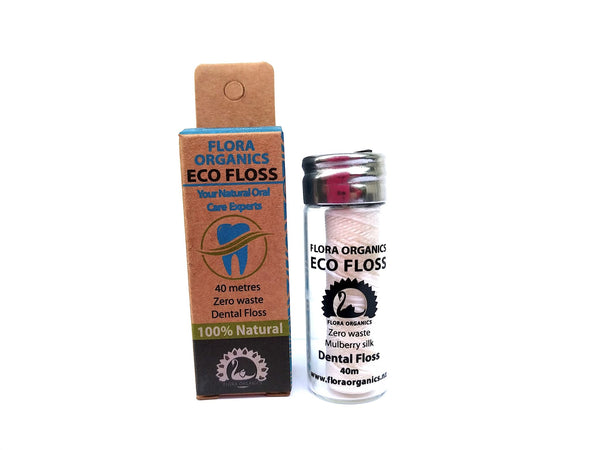 Eco Dental Floss 100% natural - Eco Dental Floss Biodegradable - Eco Dental Floss compostable
Tons of plastic dental floss dispensers go into landfills every year along with non-degradable floss that will take up to 1,000 years to decompose. Your choice makes a difference to the planet.

This is a 100% natural ECO FLOSS in a strong glass recyclable and reusable dispenser. Our Eco Floss is made of Mulberry silk and coated with Candelilla wax. It is 100% biodegradable and compostable.   Silk Dental Floss is great for people who have tight spaces.
Made of:  Mulberry silk, Candelilla wax, Peppermint essential oil
**40 metres**

So easy to use: Simply pull a section of floss out from the top metal dispenser (has a tearing tab).