Item: Cocoa Butter & Coconut Oil Hand Cream - Vanilla & Bergamot

Description: An organic hand cream rich in Cocoa butter and Coconut oil to intensely and naturally moisturise

Price: $13.90 NZD

Size: 50 mL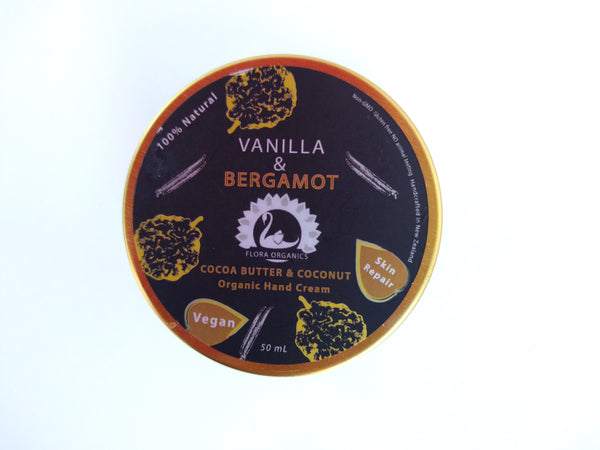 An intensively moisturising Vegan (no honey) hand cream with certified organic Cocoa butter and certified organic, cold-pressed, virgin Coconut oil as its base.  Absorbs fast with no greasy residue.
50 mL recyclable tin 
Ingredients:  Aqua, *Cocoa butter, *Coconut oil, *Plant Glycerin (Coconut), **Cetearyl glucoside (and) Cetearyl alcohol, *Safflower oil, *Olive oil, Sunflower Lecithin, Natural Vitamin E, #Dehydroacetic acid (and) benzyl alcohol, Rosemary Leaf extract, Candelilla wax, essential oils of Vanilla and Bergamot.
*Certified organic    **EcoCert approved emulsifier   #EcoCert approved preservative        
 Ingredient Information:
Organic Cocoa butter – deeply nourishing, moisturising and softening and has polyphenols to ease dermatitis & rashes.
Organic Coconut oil - powerful moisturiser and softener rich in vitamin E, restoring dry and flaking skin.  It strengthens tissue deeply and eliminates dead skin cells. It also soothes eczema, sunburn and psoriasis.  
Organic Plant Glycerin – coconut derived, non-palm, certified organic emollient to deeply moisturise your hands. When applied to the skin, it enhances its ability to remain moist, keeping it soft and supple to the touch. 
Organic Safflower oil - a potent hydrator and ideal for dry, sensitive skin.  It helps the skin to retain moisture and is packed with essential vitamins giving skin a healthy glow and promoting elasticity.  It effectively prevents rough skin and is a key treatment for problems such as eczema, psoriasis and acne.  
Organic Olive oil - rich in three major antioxidants: Vitamin E, polyphenols and phytosterols as well as the unique compound hydroxytyrol all of which can deter aging of skin as well as help repair it after sun exposure.  
Sunflower Lecithin - A soy-free, Non-GMO form of lecithin which is a natural extract rich in natural phospholipids.  Lecithin is an excellent treatment for dry and brittle nails, restoring their softness and flexibility over time and is good for your hands too. It also helps to extend the life of the oils in this cream.
Vitamin E (Natural) - from non-GMO soy beans as a natural anti-oxidant to preserve the life of the oils in our products as well as benefiting the skin.
Rosemary leaf extract  - has potent antioxidant properties, helping to preserve the life of our products while also helping to prevent age-related skin damage.
Candelilla wax - a Vegan alternative to Beeswax used to thicken this cream and to provide a little extra help for the skin in retaining moisture.