Item: Body & Massage oil - Tranquil Oasis - 100 mL

Description: Body & Massage oil for treating your body & mind

Price: $20.90 NZD

Size: 100 mL glass pump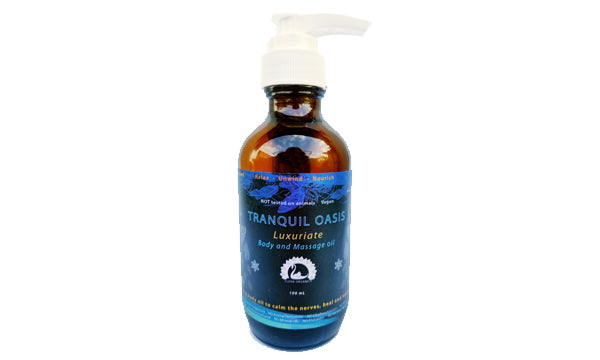 A soothing and delightfully fragrant body & massage oil to calm the nerves, reduce stress, as well as nourish and pamper the skin.  This blend is loved by both men and women alike.
Both Almond & Apricot Kernel oils are superb moisturisers and rejuvenators, are very suited to all skin types and are ideal for massage.  Almond oil is rich in Vitamin E while Apricot Kernel oil is rich in both Vitamins A & E and is ideal for sensitive skin. Enjoy!
Ingredients: Sweet Almond oil, Apricot Kernel oil, Natural Vitamin E, essential oils of Lavender, Jasmine, Neroli and Lemon Verbena.
In a recyclable glass, hand-friendly, easy to use pump. 
√ Solvent free, Gluten free
√ Cold-pressed
√ 100% Natural
RELAX        -       UNWIND      -      NOURISH      -      PAMPER
Store in a cool place away from direct light