Item: Pain Oil - 100% Natural with Wintergreen, Ginger, Turmeric & Manuka oils - 100 mL

Description:
Price: $23.90 NZD

Size: 100 mL glass pump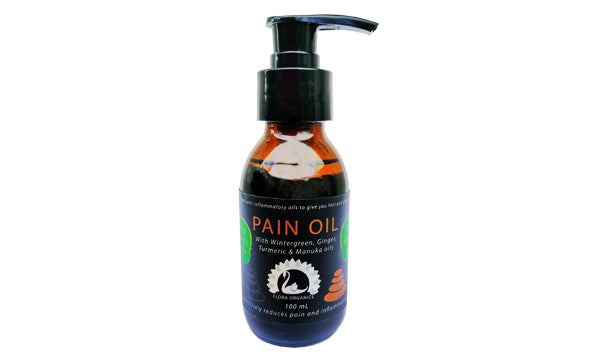 If your problem is chronic pain and you want to try something natural, this formula is for you. We have many happy customers. 
This analgesic formula rapidly soothes chronic inflammation of joints and muscles. Suitable for aches and pains, rheumatism, sciatica, rheumatoid arthritis, back pain or simply as an after sports rub.  
Wintergreen, Ginger, Turmeric and Manuka oils all have pain relieving properties. A proven formula which works well, giving instant relief!
Ingredients:  *Grapeseed oil, *Castor seed oil, Natural Non-GMO Vitamin E, Pure essential oils of Wintergreen, Ginger, Turmeric and *Manuka 
*Certified organic
√ Cold-pressed 
√ Solvent free, Gluten free 
√ 98% Certified organic
Directions:  Thoroughly massage a small amount of oil into the central pain area (i.e. joints or sorest part), repeating as necessary until pain is reduced to a comfortable level or eliminated.  
Do not use on broken skin, avoid contact with eyes
Do not use during pregnancy and lactation (due to essential oils, especially Wintergreen) or on babies' skin.
**Please read our reviews to see what our delighted customers are saying**
Active ingredients: 
Wintergreen oil - a very helpful oil for all types of aches and pains, including rheumatism, sciatica, rheumatoid arthritis and is also excellent for aching and over-used muscles.
Ginger oil - a very warming oil which promotes circulation in muscles and joints.  It contains chemicals with analgesic properties and has been shown to lessen the pain of arthritis.  It does this by acting on vanilloid receptors on nerve endings.
Turmeric oil - promotes circulation in muscles and joints and is a potent anti-inflammatory. It has proven itself to be highly effective in helping manage the symptoms of rheumatoid arthritis (an auto-immune disease).
Manuka oil - also a potent anti-inflammatory oil and when combined with the warming oils, Ginger and Turmeric, is excellent for aching, inflamed muscles and joints as well as arthritic pain. One of its traditional uses is for back pain.