Item: Aromatherapy blend - HOT FLUSH + MENOPAUSE + PMS Remedy

Description:
Price: $21.90 NZD

Size: 0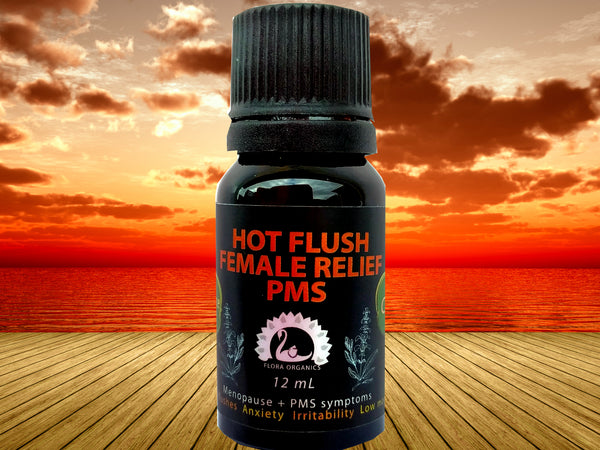 Our aromatherapy blends are handcrafted by us in small batches for maximum freshness.

This is our Female Relief blend for effectively easing symptoms of menopause and PMS (pre-menstrual syndrome), including hot flushes, insomnia, tension, anxiety, stress, low mood and irritability. Also useful for menstrual cramps.

INGREDIENTS: 100% Therapeutic grade pure essential oils of Clary Sage, Italian Cypress, Rose Geranium, Niaouli, Wild Chamomile,  Lavender and Peppermint

In a glass, sealed dripulator bottle - 12 mL

Clary Sage - Hormone balancing - contains Sclareol which mimics the effects of estrogen, lowers stress, calms and improves mood.

Italian Cypress (Cupressus sempervirens) - Profoundly soothing on the nervous system, calming the mind and emotions, cooling the body down and suppressing flushes.
Rose Geranium - Mood and hormone balancing. Eases tension, negative thoughts, stress and feelings of frustration and anger, lifts mood. Helps to ease menstrual cramps.

Niaouli - Boosts the effect of Clary Sage in balancing hormonal function and naturally helps to lower body temperature.

Wild Blue (German) Chamomile - Calms both mind and body in menstrual and menopausal problems, including PMS.

Lavender - Helps to ease tension and promote rest and sleep, helps mood.

Peppermint - Cools, suppresses hot flushes. Soothes tension headaches.

HOW TO USE:

DAY TIME: Add 1-2 drops of the blend on top of a small dollop of olive oil in your hand to dilute. Massage into back of the neck or on the feet or place 2 or 3 drops on a handkerchief, deeply inhaling for several minutes.
NIGHT/REST TIME: Put 2 or 3 drops on one corner of a tissue or thin piece of cloth such as a handkerchief. Drape it over your forehead allowing the corner to go over your nose so you can inhale the benefits of the oils while resting or sleeping.